A Handy Guide to Ergonomic Equipment what it does – and why you may need it!
Seated's resident Physiotherapist details common ergonomic office equipment, how to use it and why using it may be of benefit to you in the workplace.
Footrests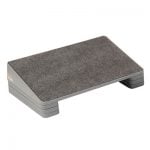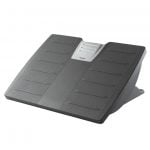 Footrests are used to make you feel more comfortable when seated at a high desk, they enable you to maintain an ergonomic position while sitting at a desk at the correct height. Adjust the footrest so that your feet will be firmly flat on the footrest with the knee joints just over 90 degrees, your bottom placed at the back of the chair, and your hands on the keyboard with your shoulders relaxed and elbows open at just over a 90 degree angle. If you're after a footrest for a small space try the Fluteline Small Footrest, or our most popular item the Fellowes Office Suites Footrest.
Use a footrest: when your feet do not touch the floor, to aid in positioning yourself in your chair or to make you feel more comfortable at the desk.
Vertical Style Mice
There has been a great shift in ergonomic mousing in the last 5 years, with the increase in RSI based mousing injuries, OH&S professionals have recommended moving from the traditional mouse position to an open handshake position eliminating rotation through the forearm and wrist when mousing. Vertical mice allow for the neutral Handshake position and replicate a standard mouse grip rotated into a vertical position. These can come in different shapes and sizes, like the Evoluent Vertical Mouse, or can even allow for adjustable angles, see Oyster Mouse, or can just be based on fingertip control, see DXT Mouse. The Rock Stick Mouse eliminates the need for finger clicking using wrist motion only and was designed specifically to counteract the symptoms of Carpal Tunnel Syndrome.
Use Vertical Style Mice: to counteract hand, wrist, forearm and elbow based RSI, by maintaining natural joint alignment.
Roller Mice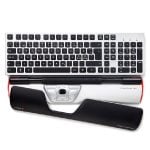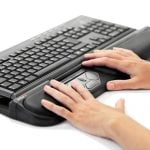 Roller Mice replace standard mice and are placed in front of the keyboard allowing the body to be constantly centred in the mid line position. It eliminates external rotation at the shoulder joint and also allows for the wrists and forearms to remain in an aligned, neutral position while mousing by either using your thumbs or fingers on the roller bar to move the mouse cursor! The new Roller Mouse Red competes with the Bar Mouse as most popular.
Use Roller Mice: to eliminate external rotation at the shoulder, relieve wrist and forearm complaints, relieve symptoms of carpal tunnel and RSI type mouse injuries.
Document Holders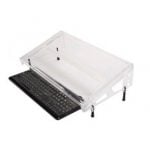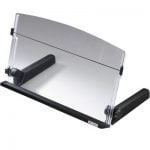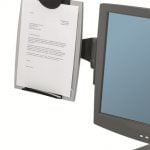 Document Holders are designed to enable the user to mount documents/and or books in an upright position. The preferred position is in-line between the Monitor and Keyboard, document holders can be angle and height adjustable. These are used mostly for comfort of the user and to eliminate awkward head postures, reducing sideways rotation and forward leaning. Our most popular for Inline reading and writing is the Microdesk, and a compact versatile expandable option is the Fellowes Inline Copyholder.
Use Document Holders: to relieve Neck Issues caused by forward leaning and neck rotation while working from written media.
Monitor Risers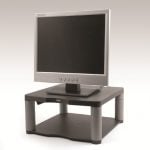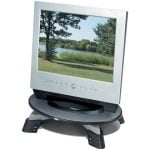 Monitor Risers raise the height of your Monitor on the desk. When sitting upright your eye line should be level with the top third of your screen. Modern monitors should have a height adjustable stand, if they do not, you can use a monitor raiser of appropriate height. The smallest compact option is the VuRyser Compact Monitor Riser and a high rising option is the 16cm high Fellowes Premium Monitor Riser.
Use Monitor Raisers: to raise your monitors when: The monitor is too low and you find your head tilted downwards to look at the screen, or if you tend to lean forward!
360 Degree Monitor Rotation Pad
This versatile pad sits on top of your Desk or monitor raiser and allows for easy touch 360 rotation of your screen. A perfect ergonomic tool for those requiring desk mounted screen maneuverability in meetings.
Monitor Arms
Like Monitor Raises Monitor arms are designed to raise your flat screen monitor, by mounting via a Vesa Plate (Square plate). Monitor arms have the added benefits of increasing desk space and give you maneuverability of the screen.
Remember Monitor arms can have accessories also like Laptop trays, keyboard trays and IPad and tablet holders to give you increased mounting options. For great value try the Ar-Ray Arm while for style and strength look at the Humanscale M2 and M8 ranges.
Use Monitor Arms: when you need to raise your monitors, increase accessible desk space or increase screen maneuverability and positioning flexibility.
Laptop Raisers


Laptop raisers are designed to raise the laptop screen on the desk. The most common complaint for laptop users is a sore neck from leaning forward! Laptop raisers can now hold your laptop vertically upright and raise the screen via adjustable angles.
We recommend all Laptop users, when seated at a desk use a vertical Laptop Raiser – separate keyboard and mouse. A great value option is the Fellowes Laptop Station and for style and Maneuverability try the Ergotron Lx Notebook Lift Stand.
Use Laptop Raisers: to alleviate neck and upper shoulder pain.
Compact Keyboards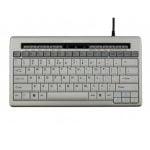 Compact Keyboards save space on the desk, normally by removing the number pad on the right hand side. They also enable the mouse to sit closer to the bodies' midline, eliminating external rotation at the shoulder joint.
When choosing, make sure the compact Keyboard has all the functions and keys you require.
Our most popular is the Evoluent Compact Keyboard and a great compact keyboard with number pad included is the Logitech K230.
Use a Compact Keyboard: to save space, make more room for the mouse and to reduce shoulder external rotation when mousing.
Number Pads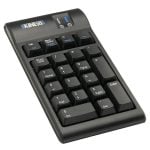 Number Pads are often used for persons working constantly with numbers on spreadsheets and can be positioned wherever is convenient on the desk. These are used commonly in conjunction with compact keyboards to allow for positional numbering.
Use Number Pads: for high use numbering, pad can be positioned as is comfortable for the user, and used in conjunction with compact Keyboards without traditional shaped number pads.
Split Keyboards


Split Keyboards allow for correct alignment and positioning of the forearm and wrists, they can either be built into the shape of an ergonomic keyboard, or the keyboard itself can be split into 2 angle and width adjustable pieces. A great portable option is the Goldtouch GO Mobile Keyboard.
Use Split Keyboards: to eliminate forearm and wrist pain caused by using straight keyboards.
Sit Stand Desks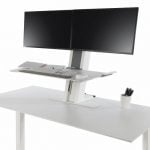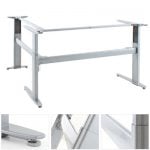 Sit Stand desks can either be a completely adjustable desk or an additional clamp on, or sit on top unit that converts a section of a traditional fixed desk to Sit to Stand. These are all used to enable the user to move quickly though sitting and standing positions.
Working in a standing position is now being hailed as a modern healthy alternative to sitting in the workplace. It has been proven to increase work efficiency and job satisfaction while having added health benefits for the user by increasing exercise in the work place by limiting the amount of sedentary sitting while at the PC. The Ergotron Workfit T is a new sit on top of the Desk unit while our range of Electric Desk options can suit any space and situation.
Use Sit to Stand Options: to alleviate back irritation and conditions caused from prolonged sitting, increase base line health and fitness while working, as advised by Medical Practitioners in Return to Work situations post injury.