Handy Hints on How to choose the Best Sit To Stand Desk for you!
With the Australian move to a more agile workplace, installations of all types of sit to stand desks are on the rise. With new technology and increased productivity, the cost of electric desking has dropped and become more affordable for the workplace and home office. Users and business owners are now asking how to select the right electric desk to suit a range of staff needs and requirements. Below we address the main features and factors to consider before you buy.
Electric Sit To Stand Desk – Height Range
Electric desks can adjust to different heights, make sure the electric desk you choose adjusts high enough for the user, a height range up to 1300mm will provide a suitable standing height for everyone including taller users.
Some budget sit to stand desk ranges will have less of a height range topping out around the 1200mm mark, which may not be high enough for taller users. Another major factor is the lower desk height for seated users. Remember shorter users would like the ability for the desk to adjust lower and may require a lower height range. A Standard Desk Height while Seated is approx. 720mm, some shorter users can require this height to be lowered to 630mm and the electric desk should allow for this.
Electric sit to stand desks with a great height range are the Elevar Electric Desk range that will adjust from 635mm to 1285mm in height. Or the Agile Double Motor Electric Desk that will adjust from 640mm to 1300mm high.
Electric Desk – Weight Rating
Electric Desks can also have different weight ratings. Budget sit stand desk ranges are rated within the 50kg to 100kg range, premium desks sit around the 120kg to 150kg mark, and Heavy Duty electric sit stand desks can go over 200kg.
The 120kg rating will handle anything in the standard office up to 4 screens plus computer and peripherals, the 200kg rating is meant for special installations of multi monitors of 4 to 8 screens and peripherals. Care should be taken with the lower end of the 50 to 100 kg sit stand desks, these will suit light weight applications of 1 to 2 screens and a laptop or computer only.
Sit to Stand – Desk Size

The standard desk sizes are 1200mm, 1500mm, 1600mm, 1800mm up to 2400mm in width.  If you are uncertain to which size will suit your environment then look for an electric desk frame that is telescopic. These frames can adjust from 1200mm – 2400mm – which means that you can purchase a desk worktop to suit your space requirement at the time of purchase. The telescopic frame gives you the option to change or upgrade to a new worktop at a later date. For example you can upgrade from a 1800mm to 2400mm without having to purchase a new electric desk frame (which is the more expensive part of the desk).
Desk Worktop Options
The Sit Stand Desk – comprises of  3 main components – the electric desk frame, the controller and the worktop. You can choose and customize your worktop size, colour and cut. The most popular colours are normally white and beech in an 1800mm size.
Most ready-made to retail worktops will be a rectangular cut offering only a straight edge. A scallop cut allows a space for cables to drop below your desk without the inconvenience of moving your desk forward to feed the cable to a power point (normally underneath your desk).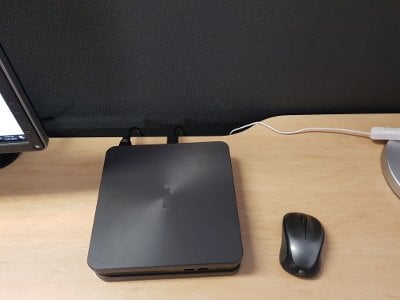 Desk Adjustment Speed
Electric desk adjustment speeds can differ, depending upon strength and number of motors. Having a faster adjustment time will minimise downtime and increase the likelihood of increased usage. Look for an adjustment speed of over 30mm per second. This will allow you to have a couple of sips of coffee while the desk is adjusting to a new height. Anything longer is just annoying.
Electric sit to stand desks with a fast adjustment speed are the Elevar Electric Desk range that will adjust at 36mm per second. Or the Agile Double Motor Electric Desk range that will adjust at 30mm per second.
Electric Desk Motors
The Electric Sit stand desk relies on electric motors to vary the desk height.  Check the number of motors that power and adjust the frame, for optimum performance each desk leg should have a motor, i.e. a rectangle desk has 2 motors (one for each leg) and a corner workstation has 3 motors. Having 2 motors will reduce the strain on each motor and will maximise longevity of your desk performance.
Budget range Electric Desks will normally have 1 motor between multiple legs and therefore a lower weight rating and maybe more prone to fail.
Sit Stand Controllers
The controller should have different adjustment controls
+ to raise the electric desk height
– to lower the electric desk height
Memory buttons. The numbered buttons will automatically adjust your desk to a per-programmed height for either sitting or standing. The extra programmed buttons can be for a second person using the desk.
LCD screen will display the desk height during the height adjustment.
When you adjust your desk height for standing, ideally your elbows should be at right angles to the desk.
More advanced premium ranges, offer programmable features, including Shelf Stop to limit the height an electric desk raises to, and Container Stop to limit the height it lowers to. Some brands also offer the ability to control the sensitivity of the Anti-Collison action of the desk.
The more programmable ranges with these features are the Elevar Electric Desk and the Agile Double Motor Electric Desk.
Motor Quietness
Check the decibel rating of your desk, noisy desks in the workplace can be disturbing, look for a desk rated under 50 decibels.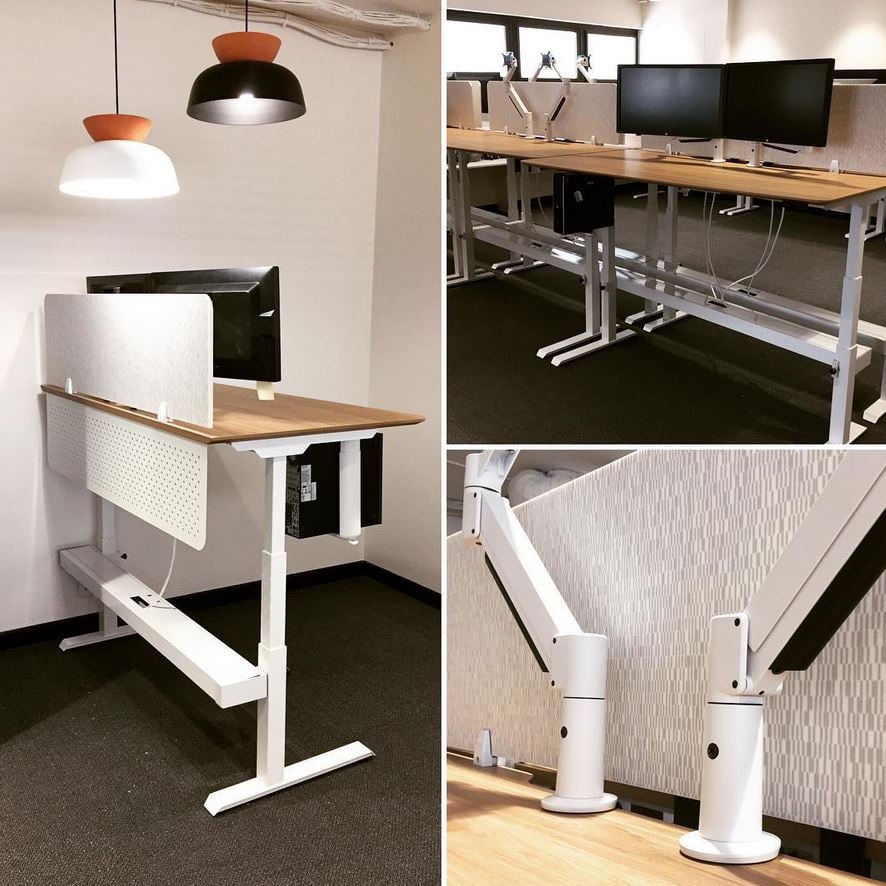 Warranty
Look for an Electric desk that has a warranty of at least 5 years, check to make sure this covers the frame and electrics! Recently released Sit to Stand Desk have a warranty of 10 years covering Frame and Electrical components, look for these for peace of mind when purchasing! Some budget desk ranges will have varying warranties for the frame and the Electric components. (Ie motors and power units). Avoid warranties that sit around the 1 – 2 year mark.
Serviceability
Along with the Warranty, make sure the electric desk range you purchase is easily serviced in Australia, larger well known and Australian-Made brands will have Australian Servicing. Issues may be more likely to arise on some of the budget imported ranges.
Colour Specification
Colour choice can be important to tie into existing workplace installations, a common traditional frame colour for electric desk would be Silver with most manufacturers also providing more modern White and Black powder coat options. Strata Electric Desk Frames can also be powder coated in a range of custom Dulux colours for the more style conscious buyer. An Electric Desk frame that offers White Black and Silver is the Elevar Electric Desk Frame.
Worktops are normally provided in White or Beech or Oak Woodgrain as standard. Some Australian manufactured Brands will also give you a choice of custom worktop colours at longer lead times.
Sit To Stand Desk Accessories
Once you start working standing up, you might want to consider some accessories to increase your comfort even more.
1. Monitor arms.  These keep your desk clear and clutter free, and can allow you to work off-center from your desk just in case you need the main part of your desk for other activities such as work meetings, written work, or planning.
2. Standing mats – The experience of standing might put strain on your foot or knees, particularly if you have flat feet. Having a standing mat can help alleviate the strain and there are lots of options. Anti-Fatigue mat – to reduce fatigue so you can stand for longer periods, an Active board such as the Gymba Active Board – designed to activate your muscles during your work day with rocking movements, or the Topo Anti-fatigue Mat that encourages varied foot placements and base anti-fatigue.
3. Power and cabling solutions – No one likes to crawl underneath the desk to plug and unplug power cables for their mobile or laptop – The Elevar Power Dice makes it accessing power easy, much more compact than a power board, easily mountable and can also charge your mobile devices through it high-powered USB ports.
Conclusion
In summary, the mid to high end ranges of electric desking should have all of the above features covered, simply choose the sit stand range with the best listed attributes at your preferred price point.
If choosing a budget range, make sure you check that you are not sacrificing a feature you may require now or in the future for a cheaper price.
Check out at our Elevar Electric Sit Stand Desk Range and Agile Electric Desk Ranges for more information.